PREVELEAK
Ready to use out of the package, the speed, strength and flexibility of PREVELEAK Surgical Sealant stands up to the needs of the most challenging surgeries. Reliably sealing across a broad range of vascular, cardiac and soft tissue reconstructions, PREVELEAK mechanically seals areas of leakage and is effective on multiple types of surfaces.
See Indications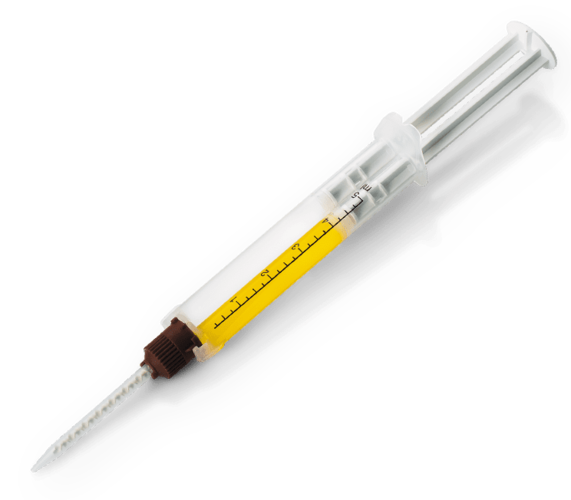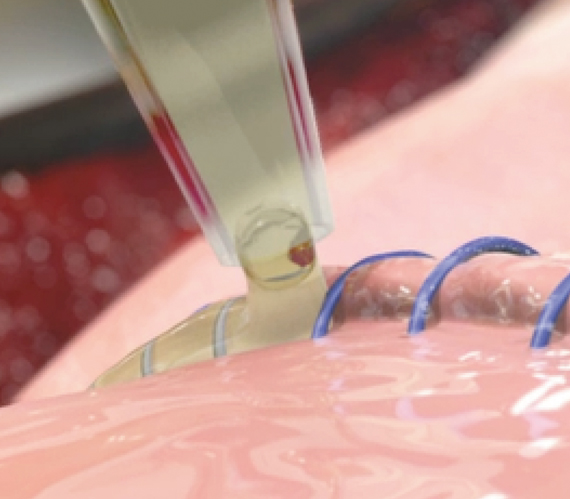 Rapid High-Performance Sealing
PREVELEAK provides rapid sealing with a burst strength in excess of 500 mm Hg*.  The strong seal is achieved 60 seconds after application while it gels within 10 to 15 seconds.1,2
*Preclinical data. Results may not correlate to performance in humans
Mechanism of Action
PREVELEAK contains equal volumes of purified bovine serum albumin and polyaldehyde which rapidly cross link with tissue or graft material to form a strong and stable bond. Learn more about how PREVELEAK works.
Additional Product Benefits
Control for Ease-of-Use
High viscosity allows for control during application, minimizing the migration of PREVELEAK surgical sealant from the site of application.
Remains Flexible After Application
PREVELEAK accommodates the natural movement of vessels with a modulus of elasticity similar to that of a healthy human aorta.1
Minimizes Inflammation and Swelling
Proprietary polyaldehyde cross-linker minimizes the inflammatory response associated with glutaraldehyde-based sealants, and the minimal swelling (<10%) of PREVELEAK reduces the potential impact on surrounding structures that may be sensitive to compression.3,4
IMPORTANT SAFETY INFORMATION
INDICATIONS and USAGE
PREVELEAK Surgical sealant is indicated for use in cardiac, vascular and soft tissue reconstructions.
Cardiac Reconstructions
Aortic root replacement, Aortoplasty, Aortic valve procedures, Valve procedures, Bentall procedure, Composite valve conduit
procedure, Mitral Valve replacement, Ross procedure, Proximal and distal coronary anastomoses including coronary artery bypass
grafting (CABG) procedures and other reconstruction of coronary arteries, Aortic aneurysm repair, Aortic wall replacement, Ascending
aorta repair, Aortic dissection repair, and Cannulation sites.
Peripheral Vascular Reconstructions
Aorto-femoral bypass, Aorto-iliac bypass, Aortic bypass, Aorto-innominate bypass, Carotid bypass, Carotid endarterectomy, Femoraldistal
bypass, Femoral-femoral bypass, Femoral-popliteal bypass, Hepatic-renal bypass, Popliteal-dorsalis pedis bypass, Profunda
endarterectomy, Renal bypass, Extremity bypass, Renal endarterectomy, Hemodialysis access, Arteriovenous graft.
Soft Tissue Repair Involving Sutures and Staples, Cardiac wound repair, Pancreatic anastomotic leak, Hepatic resection, Splenic bleeding, Biliary leaks, Esophageal repair, Colorectal repair, Stapled gastrojejunostomy and Lymphatic leaks.
CONTRAINDICATIONS
• Not for patients with known sensitivity to materials of bovine or shellfish origin
• Not for intravascular use
• Not for cerebrovascular repair
WARNINGS
• Do not use PREVELEAK Surgical sealant as a substitute for sutures or staples
• Avoid exposure of PREVELEAK Surgical sealant to areas of active blood flow, including intraluminal spaces and intracardiac spaces
• Do not use PREVELEAK Surgical sealant intraluminally. Open lumen procedures require protection of the lumen (e.g. use of gauze,
occlusion balloon or other suitable approach) prior to applying the sealant to avoid inadvertent intraluminal exposure
• Avoid exposing nerves to PREVELEAK Surgical sealant. Avoid the sinoatrial node, the atrial ventricular node and any other nerve
tissue when applying PREVELEAK Surgical sealant to the heart
• Do not use PREVELEAK Surgical sealant in the presence of obvious infection
CE0086