SEPRAFILM
Adhesions are not preventable by surgical technique alone.  Adhesions develop routinely following surgery, and have been reported at second-look surgery to occur in up to 93% of patients following laparotomy2. SEPRAFILM Adhesion Barrier is an adhesion barrier that reduces the incidence, extent and severity of adhesions following abdominopelvic surgery1,2.
See Indications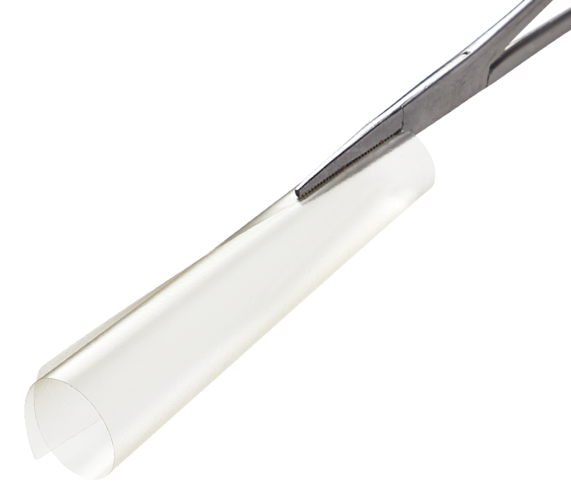 The clinical and economic burden of adhesions is extensive
Adhesions are a major cause of small bowel obstruction, infertility, chronic pelvic pain, and complicate future surgery, with annual surgical costs of more than $2 billion in the U.S14.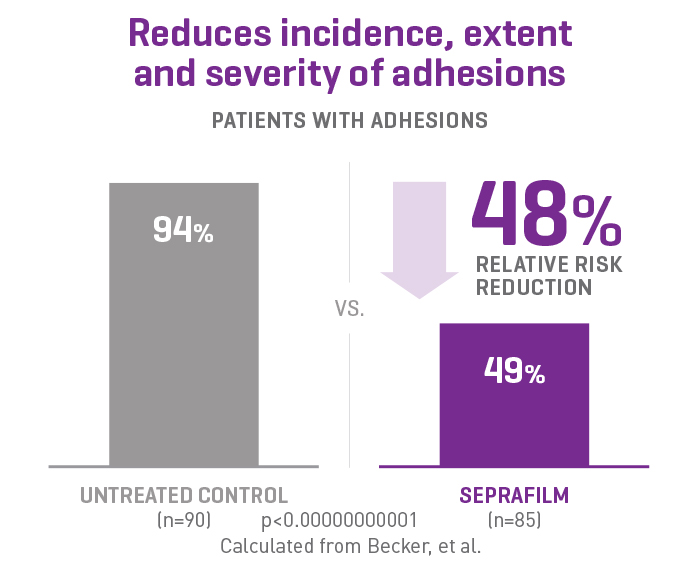 SEPRAFILM efficacy in abdominal surgery
In a randomized, prospective, double-blinded, multicenter clinical study involving 183 patients [175 evaluable] with ulcerative colitis and familiar polyposis undergoing 2-stage intestinal resection, more than half of the patients treated with SEPRAFILM were adhesion-free 8-12 weeks following the initial operation compared to 6% of untreated patients2.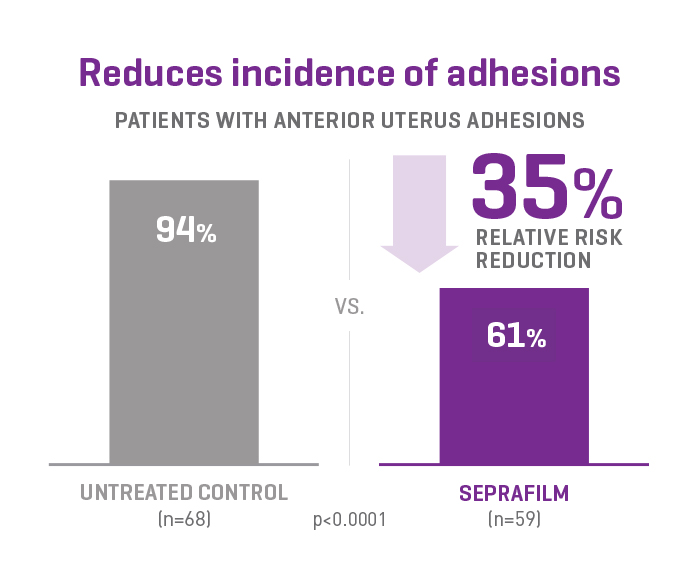 SEPRAFILM efficacy in pelvic surgery
In a prospective, randomized, blinded, multicenter clinical study involving 127 patients undergoing gynecologic surgery, SEPRAFILM reduced the mean number of sites adherent to the anterior uterine surface following myomectomy compared with untreated patients. SEPRAFILM also significantly reduced the extent and severity of adhesions in patients undergoing uterine open myomectomy compared with untreated patients3.
Mechanism of Action
SEPRAFILM is a sterile, bioresorbale, translucent and hydrophilic adhesion barrier. It is composed of two anionic polysaccharides: modified sodium hyaluronate (HA) and carboxymethylcellulose (CMC)1.
Application of SEPRAFILM Adhesion Barrier in Myomectomy
Dr. Kaylen Silverberg demonstrates the application of SEPRAFILM in a myomectomy. 
Additional Product Benefits
Protection When It Matters Most
Separates tissues for up to 7 days - the critical tissue healing period1,2
A Proven Legacy
Demonstrated clinical performance with more than 10 randomized, controlled, clinical studies assessing safety or efficacy2-6, 7-13
Comprehensively Studied
No adhesion barrier has been more extensively evaluated15
Seprafilm Adhesion Barrier Indications
Seprafilm is intended as an adjunct in abdominal and pelvic surgery for reducing the incidence, extent and severity of postoperative adhesions at the site of placement, and to reduce adhesive small bowel obstruction when placed in the abdomen.
Contraindications
Seprafilm is contraindicated in patients with a history of hypersensitivity to Seprafilm and/or to any component of Seprafilm.
Important Risk Information
Seprafilm is not recommended to be wrapped directly around a fresh anastomotic suture or staple line of the intestine. Clinical trial data on Seprafilm indicate that such use may result in an increased risk of anastomotic leak-related events (fistula, abscess, leak, sepsis and peritonitis). The incidence of these events was not affected when Seprafilm was placed elsewhere in the abdomen.
In patients undergoing surgery for ovarian, primary peritoneal or fallopian tube malignancies, Seprafilm use has been reported as having an increased risk of intraabdominal fluid collection and/or abscess, particularly when extensive debulking surgery was required.
No controlled clinical studies have been conducted in patients with active infections.
Foreign body reaction may occur, as with any implanted material and most surgical adjuncts, but have been rarely reported during clinical use.
Seprafilm has limited controlled clinical trial information in patients with abdominopelvic malignancy.
No pre-clinical reproductive studies have been conducted.  No clinical studies have been conducted in women who become pregnant in the first month after application of Seprafilm. Therefore, avoiding pregnancy during the first complete menstrual cycle after the use of Seprafilm should be considered.
SEPRAFILM Full Instructions For Use
CE 0123